The Motorcycle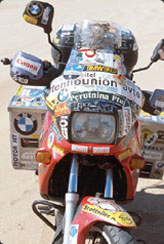 When choosing the motorcycle, one thing was immediately apparent - I couldn't rely on my own experience, because I didn't have any.
My intention was not to re-invent the wheel, just ride it around the world. With curiosity and naivety, I began researching, comparing, and test riding different models. So many people had already undertaken long distance motorcycle treks, with the majority showing a clear preference for one brand. I also needed a bike that fit me, allowed me to comfortably reach the ground, handled well, and most of all, one on which I felt confident. Something rather light, well balanced and reliable was what I wanted.
My final decision was the BMW F650. Some minor adjustments were made to make life easier: Hyper-Lites and a Scottoiler were installed, the original gas tank was replaced with one of 7.1 gallons (27 liters), a sheepskin saddle cover prepared for the winter months, plus two additional horns to help negotiate Indian traffic. I also fitted a throttle rocker, Givi windshield and a 52 liter Maxia top case. My first pair of saddlebags were wooden. Yes, you read that right. They were wood, covered with aluminum, and amazingly lasted for 2 years. Those bags, a gift from a friend, had already been around the world. Well into my trip the old bags were replaced with a hand-crafted, 5mm aluminum set, actually rather ugly, but priced right at $150 for the pair. Waterproof and sturdy, they never let me down.
My motorcycle Service Booklet reads like the passport of a cosmopolitan: Ljubljana in Slovenia, New Jersey and Florida in USA, Caracas in Venezuela, Santiago in Chile, Sao Paolo in Brazil, Auckland in New Zealand, Alice Springs, Perth and Newcastle in Australia, Tokyo in Japan, Kuala Lumpur in Malaysia, Amritsar in India, Johannesburg in South Africa, Nairobi in Kenya, Tel Aviv in Israel, Lappeenranta in Finland and Belgrade in Serbia.
To gain total familiarity with the bike, I attended mechanical lectures at the local BMW dealership in Ljubljana. At that time the Slovenian Police were beginning to ride (and crash) BMW F650's. Fortunately for me, there were plenty of victims in need of repair, which provided a great opportunity to explore the most hidden parts of the motorcycle's soul.
The BMW guys were extremely passionate about their work, their engines, and their student. My preparation for the long journey infected everyone in the garage like a pleasant, exciting virus. They had the knowledge, while I had the enthusiasm and vision; the ingredients for a wonderful team.
Engine and bike mechanics are based on logical principles, so they made sense to me, and it was impossible to chase me away when anyone was working on my bike. I wanted to be involved, to learn and I believe the intricate understanding of my two-wheeled companion made me feel safer. I knew regular annual services were not enough, that every day attention would be required. Same as for humans, I guess...
All total, 19 tire changes were required, mostly rear ones. I relied primarily on the very durable Metzler Enduro 4, but preferred the softer Dunlop for cold climates, and Enduro 3 knobbies for muddy terrain. The maximum mileage from any front tire was 35,000 km, with 25,000 km from the back. I went through 10 chain and sprocket sets, 2 water pumps, and 2 shock absorbers, but never bothered to count the untold quantities of engine oil, filters, spark plugs, steering and wheel bearings digested.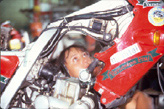 Different speeds, travel styles and weather conditions resulted in fuel consumption varying from 26 miles/gallon (9 liters/100 km) in strong Patagonian side winds, to 56 miles/gallon (4.2 liters/100 km) in calmer weather and optimum riding conditions.
I traveled with a Carnet de Passage, a motorcycle's passport needed when crossing borders. In most countries there are ways around not having one, but at my time of my travel they were strictly required in Pakistan, India, and Egypt . People often ask me about the merits of carrying a Carnet and my answer is if I was to travel around the world again, I would not consider going without one.
The first bike registration was valid for 2 years, made possible only through the understanding of our local authorities. Apparently my bike was the first vehicle in Slovenia to be honored with such a status of extended freedom. Thereafter I had the registration papers and obligatory insurance documents renewed and forwarded every year, a very simple procedure if you have someone at home to rely on. Interestingly, the only country requiring additional temporary local registration and licensing was Egypt.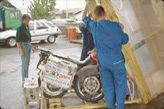 My bike, a demo model, started our journey with 6,278 miles (10,045 km) on the clock. I wonder if it ever dreamed of making its way around the planet. At the time of our return the odometer reading was 118,788 miles (190,016 km), rounding the trip distance at 112,510 miles (180,016 km).
At first the BMW F650 was just a vehicle, but being my only constant companion, I soon started relating to it as my co-traveler. After sharing so much time together, we evolved into trustworthy buddies, which soon blossomed into a dear friendship like any other. The word
motorcycle
being masculine in the Slovene language conditioned my relationship so much, I began referring to "him" as my Red Boyfriend. Later in the journey, while traveling through Pakistan, people often asked where my husband was. In response I began wearing a ring, after deciding to marry my motorcycle - an ideal husband in my opinion. No ironing, no snoring, no complaining, and no nonsense.