20 Questions for Benka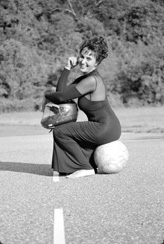 Q: Why did you decide to travel around the world?
A: Because I didn't have anything better to do. I wanted to spend time doing what I enjoyed: traveling, meeting people, visiting new places and learning new things, like how to make clam chowder. So I went. I was also inspired by Paulo Coelho's inner journey, as depicted in
The Alchemist
. I was lucky enough to meet him recently in Slovenia, while both our books were on the best-seller list.
Q: How long did you travel?
A: I departed on June 19, 1997 and returned exactly 2,000 days later, on December 10, 2002. An additional five months were spent preparing for the trip. Now, after all is said and done, I haven't lost my taste for living on the move and still have trouble believing the journey is over.
Q: Where did you start your journey?
A: It seemed only natural to start from Ptuj, my hometown and the oldest settlement in Slovenia.
Q: And where did you finish?
A: The same place I began. I wanted the closest location to my mother's kitchen.
Q: How much did the entire project cost?
A: I don't know exactly. If anyone were to ask how much they need to do the same thing, I would suggest not less than $100,000. An estimate of my spending between gasoline, photographic equipment, film and developing, shipping, food, accommodation, services, tires, airfare and the miscellaneous things was $53,000. And it was very hard. Living on such a rock-bottom budget forced me to earn a PhD in thriftiness. And yes, without helping hands, sponsors and contributors, that cost would have been much, much higher.
Q: How did you locate your sponsors?
A: WORK! Hard work. Endless phone calls, applications, knocking on doors, banging on doors, pleading and persuading I had something that would most definitely benefit them. Of course there was a lot of disappointment, rejection and lack of understanding. But without valleys, there can be no mountains...
Q: What kind of motorcycle did you ride?
A: A red 1996 BMW F650, the friendliest bike in the world.
Q: How much experience did you have before you started the trip around the world?
A: Enough. 380 miles to be exact. It may not sound like much, but it was enough to understand what the handlebars were for, how to use the throttle and apply the brakes. When I decided to travel the globe, my motorcycle license was 7 months old. I was learning and gaining experiences as I went. The knowledge gleaned from the road was, in my case, worth more than what I gained at the University.
Q: What kind of motorcycle gear did you use?
A: Quite an assortment! I swear by Dainese jackets, and Aerostich Darien pants are the best your money can buy. I tried Darien jackets as well, and they worked fine. My first boots were Sidi, followed by the Aerostich Combat model, and ending with BMW's Kalahari and Savanna styles. My favorite heated clothing comes from Aerostich and the best rain gear was Klima Komfort, from BMW. Gloves came from Road, Yoko and Dainese. On rainy days I covered the gloves with Aerostich's Triple Digit Rain Cover. As for the helmets: BMW Systems 3 and 4. The sexiest, yet warmest motorcycle underwear on earth is made by Rukka of Finland. They really understand cold.
Q: Where did you spend nights?
A: Most were spent in my flying house, as I called my tent. If that was not possible, in South America for instance, I tried to stay in motels with hourly room rates, or so called "love" motels. They had the greatest, and the safest parking lots, which was more important than the room. In Asia there were plenty of cheap accommodation available. In North America people are so open, it wasn't necessary to do more than ring a doorbell and ask permission to camp in their yard. Europe caught me with cold and wet weather, so I left the last of my money in roadside motels. But of all the places I stayed, nowhere was nicer than the warm homes of openhearted, soon-to-be new friends.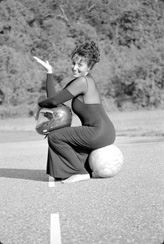 Q: What place did you like most?
A: I have many favorites: New Zealand, Japan, and Canada top the list. I would gladly pack my bags and return to just about any place I visited. They all have a special charm, or something outstanding to be remembered.
Q: The best experience?
A: Several come to mind. Landing on Antarctica. Returning to my hometown over half a decade later. Being part of Hillary Clinton's birthday celebration was a blast. Jumping out of an airplane while the Space Shuttle Columbia was being launched not far away. I can't forget diving with the sharks, riding under the glow of the northern lights in Russia, a rhino photo safari in Nepal, traveling through forbidden Saudi Arabia and so many others.
Q: And the worst one?
A: Traffic in India. For me that was the greatest nightmare I encountered. In general, India is very interesting and the most colorful country of them all. But their traffic is something I never want to experience again. Another negative was my accident in Ecuador. I crashed a horse, not the bike, and ended up in the hospital for 10 days. Being struck by the Egyptian police wasn't much fun either.
Q: Were you ever sick?
A: Yes, quite often actually, more often than was normal at home. But then life on the open road is much harder and more demanding than the comfortable one at home.
Q: What was the most challenging part of your journey?
A: The fact that I was the only girl for everything. There was no one to share the burden with. Yet at the same time, that was one of the better parts. I was the one responsible for everything, from servicing the bike, changing tires, writing travel reports, updating the web site, emailing, trip planning, arranging visas, conducting interviews, raising money, maintaining my laptop and cameras, and the rest of the necessary duties. And so many times everything was done on the side of the road.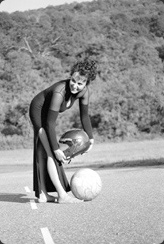 Q: Where do you live now?
A: A little bit in Slovenia, a bit in the USA, but most of the time I travel and keep exploring this wonderfull world.
Q: Have you written a book?
A: I have actually written four. Less than a year after the journey was completed, my first book was published.
Po Zemlji okoli Sonca (Around the World Circling the Sun)
is a coffee-table book, with over 380 photos on 220 pages. Next came my living autobiography,
Pocestnica (
Vagabondess
)
which set the Slovene literary world on its ear. Then
Obrazi sveta/Faces of the World,
cataloging my recent photo exhibition, was released to commemorate the 10th anniversary of my departure, with text in English and Slovene. Last, but certainly not least, is
Dve ciklami (Two Sour Flowers)
, my first foray into children's literature. I am proud to say that all have received literary awards and high critical acclaim.
Otroci Sveta
(Children of the World) has been colaborated with procleimed author Janja Vidmar. You can read more about my books
here
.
Q: Do you make any public appearances?
A: Yes I do. I answer numerous invitations from schools, universities, colleges, organizations, clubs, libraries, motorcycling events, corporations, etc. The programs vary, depending on the audience. My presentations usually include and hour and a half multimedia presentation, motivational lessons and group discussion.
Q: Did the journey itself change you in any way?
A: Most definitely. I no longer accept "impossible" and "can't be done" as valid answers. I am much more demanding as a person, and have learned how to get the most out of the time available. I hate waste of any kind: resources, time, energy, money, and possibilities. My outlook on the world changed as well. I see the world as an even friendlier, humane and wonderful place - much more so than the picture painted by the media. I believe we can make it an even better place with more understanding and less paranoia.
Q: What are your plans for the future?

A: There are so many activities happening at present I can barely focus on them all, much less contemplate the future. First is my humanitarian project
"Believe in Yourself and Kickstart the World"
. So much must be done to meet the educational needs of the world's children, to help them eventually stand on their own. Learn more about the projects and become part of it! I am constantly working on new book or colaborating on their translations. I still photograph a lot, travel extensively, do motivational speaking, book signings, literature events, book fairs, etc. I spend my spare time, if any, thinking where my next adventure will take me, and what vehicle I should try next time.