Professional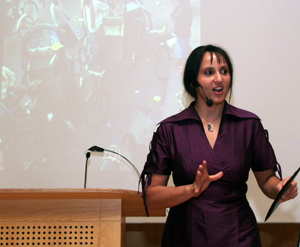 Benka's story is a testament to the success that comes from a strong focus in life. With little prior experience she set out to travel the world by motorcycle, fulfilling a dream many people would think impossible for a young single woman.
Today her record-setting feats are recognized internationally, but they began simply as a good idea from a small town in Slovenia. In her 90-minute live presentation, Benka openly reveals all the steps required to complete a project of this magnitude. This professionally prepared multimedia presentation provides tangible references for this almost unbelievable story. Her animated personal delivery is supported by the colorful backdrop of hundreds of stunning photographs from her journey, combined with invigorating video clips and world music.
Her broad educational background affords her a unique perspective on the world, life and the connections therein. She delivers, in good humor, progressive concepts and offers social critiques on global issues that captured her attention while traveling.
Benka's unique story has become an invaluable motivational tool used today by many of the world's leading corporations such as Microsoft, HP, Vodafone and Phillip Morris.
As Slovenian Woman of the Year 2003, Guinness record holder and author of the fastest selling coffee table book in Slovene history, Benka powerfully demonstrates how a well made plan, together with hard work, passion, and a never-give-in mindset can lead to extraordinary success.
For further information or booking please
contact us
.
Comments from organizers and attendees:
I have recently had the opportunity to work with Benka over the last six months preparing for her speaking engagement at our shop and at my request. Her presentation was conducted extremely professional and was a hug success for us. She left our customers inspired, humbled and validated on just how amazing the world really is. Her uninhibited spirit and zest for life, coupled with her humorous nature made her the perfect speaker for our customers. I recommend Pulko with great pleasure and withough reservation. -Tod Shuls, General Manager BMW of Pensacola