Clubs & Associations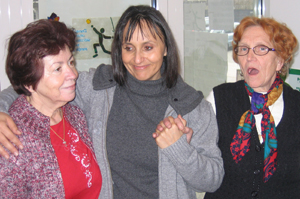 Benka's beautifully crafted presentation is a story of determination, stamina and extraordinary human capabilities. Along with a list of priceless experiences Pulko reveals her personal path of finding her way of life, her place under the sun. Many advised that her idea of the grand journey was dangerous, even suicidal. While undaunted by the task that lay ahead, her respect for danger proved healthy. She constantly seeks to live on the edge, is a determined survivor and will lock on to a goal with laser focus and see it completed to the end.
Becoming a celebrity with more common sense than experience Pulko's greater awareness of life often compensated for her limited knowledge of motorcycle engines. With open heart and a shoestring budget she set off on her own armed with faith and stubbornness. Her feats are admired by risk takers and those who have done their own share of adventuring, including word renowned names like Reinhold Messner, Tomaz Humar and Martin Strel.
Her multimedia presentation is an epic tale of survival, filled with fantastic photography and sensual music. Benka's sense of adventure comes across so clearly. Her convincing stories are well structured, documented in detail, and are extremely interesting. Nobody leaves after a presentation without the sense that life is beautiful and worth living.
For further information or booking please
contact us
.
Comments from organizers and attendees:
"Benka is cool as heck! Sure was nice of BMW of Pensacola to treat us with all that. Great time!" -Ed


"I just got from Benka's presentation. She obviously is quite amazing! So many things to say; she had a dream, and with a little determination and resourcefulness, she lived it. Very down to earth though, for someone who accomplished so much and still continues to share her experiences. I still can't quite fathom the scope of what she did. Incredible." -

Mark S.



"I have seen the presentations of Ted Simon, Helge Pederson, Emillio Scotto, Dave Bar, Greg Frazier and many others You are the cherry on top of this cake!" -Don M.


"Fantastic presentation of your wonderfull journey."

-Vony Glave

s,

One Million Miles on BMW Motorcycles




"I could listen to your stories for ever!"

-Ardys Kellerman

,

One Million Miles on BMW Motorcycles



"Benka, thank you on behalf of the BMW Motorcycle Owners of America and our members for taking your time and energy to share your story and your life. You are a remarkable women and a tremendous asset to our BMW MOA family."

-Bob Aldridge, Executive Director of BMW Motorcycle Owners of America



"The most intriguing seminar at the enire event was put on by Benka Pulko of Slovenia." -LonestarVoyagers.com

"The next seminar I took was the most amazing of the entire rally, by Benka Pulko. She currently holds the record for the longest solo motorcycle ride ever undertaken by a woman-in both distance and duration. She is a published author and a noteworthy photographer and I am in total awe of her talent, skill and beauty. The presentation included video, stills of her incredible photography, and many many pix and stories of the people she encountered on her travels around the world. I am inspired by her lively tales and her dedication and her "believe in yourself" campaign. She was the most amazing presenter at the rally and from the crowd, I wasn't alone in my thinking." -Donna, DemenShea.com