Community Groups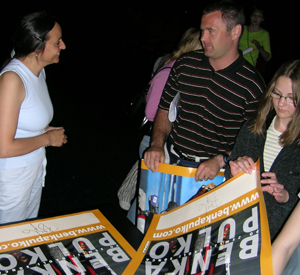 Being an acute observer Pulko benefited greatly from the opportunity to enter endless communities along her way, living and cooperating with different backgrounds, races, points of views and languages.
Now she is bringing and sharing her recognition of personal and societal growth. She speaks about the sharing of resources and tolerance of differences. Through her wonderfully crafted, hour and a half long multimedia presentation, she shares an incredible blend of native music, unforgettable photography and capturing live narration.
She is an ambassador bridging communities, strengthening the sense for intercultural communication as well as the respect for community values. She encourages mutual respect of world society. Instilling her belief that everything is possible encouraging those who are in leadership as well as those who follow. Listening her is an education in socializing with the world. After spending time with Pulko, one doesn't need to go and visit it; she will bring it right to your doorstep and let you enter it.
For further information or booking please
contact us here
.
Comments from organizers and attendees:
"We strongly recommend an event with Benka Pulko. Her multimedia presentation was of a very high quality as she captivated the audience with her enthusiasm and energy. Benka's photography was exceptionald and offered a pictorial review of the many sights she encountered. Her narrative brilliantly led the audience through her incredible adventure. This fascinating program appealed to many different interests. It was at once motivating, entertnainig, educational and it was art!" -Kenneth L. Reeves, President of Sullivan Patrons of the Arts

"Looking for unique, high quality artistic program, which broaden borders? We got that and more with Benka Pulko! Booked Pulko's gallery show and two receptions featuring her multimedia presentation was extremely well-received in our community, not only as a companion piece to the photographs, but as a stand-alone artistic, philosophical, and travel program. Pulko is a charismatic and dynamic public speaker. She is also very personable in a reception or small group setting. Pulko is accessible to children and also to seniors, and has programs adapted to all audiences. Our visitors could not have been more delighted. Benka is extremely professional, tireless, and passionate about her work. We were able to provide our patrons with an international experience of high artistic merit at a reasonable cost." -Roxane Cummings, Exec. Director, Mineral Area Coundil on the Arts