Universities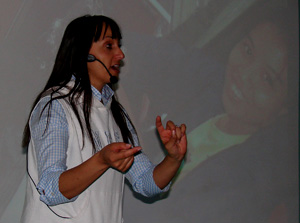 The most dynamic of all her appearances are those with restless, enterprising, young adults in search of meaning and understanding in life, looking for identity, and seeking to grasp knowledge at every opportunity.
Benka holds a degree in biology, as well as a post-graduate qualification in adult education. She is an exceptional communicator whose educational lecture is delivered in an amusing and highly inspiring manner. Her stories fluently blend insightful descriptions, humorous observations and a profusion of common sense, while allowing the listeners freedom to draw their own conclusions.
The primary underlying messages are the value of tolerance, the acceptance of differences and the importance of self-confidence. She promotes action and a sense of responsibility for one's own actions, while encouraging a fearless approach towards the unknown.
Her lasting influence on the audience is remarkable. A constant stream of emails offering positive feedback, notes of admiration and thank you letters have lead Benka to believe her story should be shared with as many young people as possible.
For further information or booking please
contact us
.
Comments from organizers and attendees:
"Thanks you for such a heartfelt presentation. Our students loved it so much, we will have to invite you back again next semester. Slovenes can be a truly closed nation. I hope many, many young people hear your speaches." Marija Jazbec